Sports Massage
What is sports massage?
Sports massage is a combination of massage with more advanced techniques. Although used mainly for sports injuries and prevention it works well on those that have had long term injuries and suffer with tension, pain and tightness.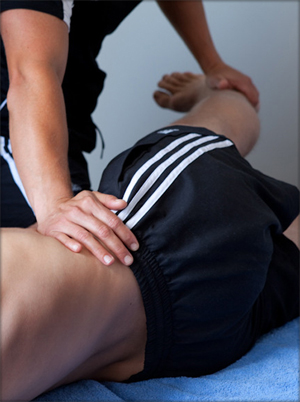 It helps with deep tissue release and is great for those that work in an office all day and have "mouse" shoulder pain.
Therefore Sports Massage is useful for everyone.
What happens during a session?
During your first session there will be a full consultation, to understand what is causing the problem. You will receive a treatment the first time you come the length of which will depend upon the problem as well as other factors. Sports massage is firmer and deeper than an ordinary massage it can be uncomfortable but this is usually momentarily whilst on that muscle group. Treatment is varied to suit everyone. I work with K taping as well as using therapies such as cupping and bamboo sticks to help achieve results
What can sports massage do for me?
Non sports person
Can help release long term muscle tension/pain
Increase flexibility
Increases suppleness
Blood circulation and lymph can be improved
May help to relieve pain and discomfort
Aid stress and body tension
Sports person
Optimise body function and all body systems
Speed healing and helps to reduce healing time
Increases performance potential
Removes lactic acid/toxins and waste
Improves flexibility
Helps to bring oxygen to the muscles
Helps to improve blood and lymph circulation
Aids recovery time
How often do I need to receive this treatment?
That depends upon the problem each injury and person are individual and so respond differently. For most problems you need to be thinking 3 to 4 treatments others longer. I shorten sessions if the injury/problem allows me to.
If you are a sports person then I would recommend regularly possibly every other week or monthly. This depends upon time constraints and finances. Even after receiving a good number of massages you should keep going you will over time realise what good the massage brings to you and your performance. Re-occurring injuries should become less if not disappear totally if massaged on a regular basis.
Regular massage for those with ongoing problems is beneficial to aid recovery and to keep body functioning at its optimum.
Do I need to be ill to receive sports massage?
Not at all, many of us need time out a deeper massage such as sports massage can be enjoyed by everyone. Many people do not enjoy a more relaxing massage and so find a sports massage more to their liking as an all over body treatment as well as for more specific problems.
All massage helps the body to relax encouraging flexibility and encourages the body to work better on all levels.
Therapist: